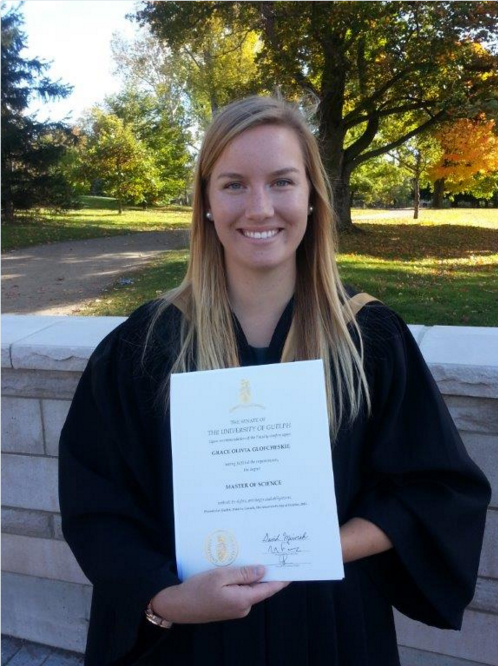 The Grace Olivia Glofcheskie Memorial Fund has been established by Grace's loving family to honour the memory of their daughter and sister.
Grace had an infectious smile that lit up a room. An engaged student and committed athlete, she will never be forgotten by those who knew her. She was kind, generous, thoughtful and brilliant, with a willingness to take on new challenges and be a leader.
Grace grew up in Arnprior, west of Ottawa, where she graduated from Arnprior District High School. She recently graduated with her master's degree in human health and nutritional sciences MSc from the University of Guelph, where she also received her BSc in human kinetics in 2013.
During her time at Guelph, Grace was a member of the varsity golf team, an academic scholar and was always the first person to volunteer to help her teammates, classmates and peers. She was the person who always put others before herself and demonstrated the type of leadership qualities that led her coach to describe her as the "the glue of the team".
Grace was also a passionate student leader who was part of the College of Biological Sciences Student Council and was the driving force behind several significant fundraising projects.
A competitor on the golf course and a warm and generous person off, Grace always had a smile on her face. The outpouring of support from friends, family and both the Guelph and U of G community shows just how special a person she was.
This memorial fund will ensure Grace's legacy continues at the University of Guelph, a place where she touched so many lives and will be forever remembered.