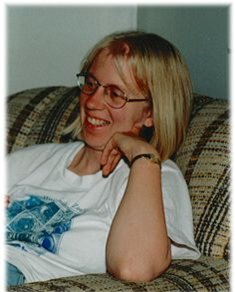 Dr. Leslie Rye Memorial Fund
The Department of Integrative Biology proposes the creation of the Dr. Leslie Rye Memorial Fund, to support two initiatives to honour Dr. Rye's legacy: to dedicate a tree in the Arboretum in her name, and to support an award which will allow a student each year to take part in the Algonquin field course each year.
Please consider a gift to the Dr. Leslie Rye Memorial Fund to honour Dr. Rye's legacy through these two initiatives. Gifts of all sizes are appreciated and will be acknowledged to the Rye Family unless you make your gift anonymously. If you need assistance in making your gift, please contact Taline Artinian at artinian@uoguelph.ca or 519-824-4120 ext. 54568.
If you are a U of G retiree interested in supporting this award or a U of G staff or faculty member interested in making a gift through payroll deductions, please contact Maureen Brooker at brookerm@uoguelph.ca or 519-824-4120 ext. 56695.
In memory of Dr. Leslie Rye: "I tried to leave the place better than I found it."
The College of Biological Science extends our sincere sympathies to the family, friends and colleagues of Dr. Leslie Ann Rye, who passed away on November 5, 2018. Her loss is deeply felt in the college and, in particular, in the Department of Integrative Biology where she has been a dedicated educator and mentor for over 10 years.
Dr. Rye arrived in Guelph in 1980 and never left. Her passion for teaching and learning earned her a job at the University, where she instructed and advised undergraduate students. Her commitment to education extended beyond the labs and the classrooms, as Dr. Rye supported several student clubs and coordinated a field course in Algonquin Park, a place for which she had a special love. In recognition of her service, Dr. Rye was awarded the President's Spirit Award for Exemplary Staff Service in 2017.
In honour of Dr. Rye's inspirational approach to teaching, her enthusiasm and generosity of spirit, the Department of Integrative Biology has established a scholarship fund in her name. The award will help to send a deserving student on the Algonquin Field Ecology course each year. The Algonquin Wildlife Research Station has named a building in her honour, and a dedication ceremony will take place in 2019. Read the full statement from the Algonquin Wildlife Research Station here (Facebook).
Colleagues and students of Dr. Leslie Rye have been moved to share their memories of, and immense gratitude for, her influence on a generation of young biologists at the University of Guelph:
"Leslie was a major part of the department and her loss will be felt very deeply. She touched the lives of countless students as a dedicated and passionate educator, and she will undoubtedly leave a lasting, inspirational legacy on our teaching as a department."
-Professor Ryan Gregory, Chair of the Department of Integrative Biology
"Leslie was a fantastic educator and even better person. I enjoyed working with her on campus and in the field. She always treated students with compassion and respect and she was never afraid to delve into a new subject. She will be missed immensely."
-Professor Ryan Norris
"Leslie nurtured my squirrel research schemes as an undergrad-volunteering her time to demonstrate grey squirrel dissections. She has similarly enriched the lives of countless students, whether in lab or time volunteered. She was a true pillar of the integrative biology community." - Mason R Stothart "Educators contribute so much labour into the lives of their students, many times they are unaware of their impact. I hope Leslie realized that she helped a generation of us U of G terrestrial/marine wildlife nerds realize our unconventional dreams were within reach."
-Justine Ammendolia
"I will certainly miss visits with her at the Algonquin Wildlife Research Station and my periodic campus drop-ins. Her exuberance and passion for students in the lab and field was so genuine and inspiring. Organismal biology at the University of Guelph will not be the same. I have been speaking with other students, past and present, who knew Leslie from the research station and university. There are a lot of fond memories to reflect on."
-Patrick Moldowan
"Leslie was a lovely and inspiring presence throughout my undergrad and into my master's degree. I wish I got to spend more time with her, but I have her knitting needles she lent to me when I was thinking of taking up knitting. She'll be missed dearly." -Maggie Bain ‏"Leslie helped students in all aspects of biological learning from the field, to taxonomy, and dissection. She had an incredible passion for teaching, and me and countless other students were incredibly fortunate to have her in our ecological education. We will all miss her." - Frances Stewart "Truly a pillar of our department. I was lucky enough to both learn from her and also get to teach alongside her, and I'll treasure those times. You will be missed." -Jack Robertson‏ "A terrible loss, Leslie was a passionate teacher and fantastic mentor. Attending her classes and working alongside her as a TA were some of my favourite memories from U of G."
-Alison Forde
"She was such an influential mentor to me during my time at U of Guelph and was always so supportive of her students and of the integrative biology department. I was lucky to have been able to TA herpetology while she still taught it. Teaching with her, especially a subject like herpetology that we both really loved, was such a fun and enjoyable experience that I will not soon forget. I remember her being more than happy to let me stay late in the lab on certain days in order to assemble the porcupine skeleton I'd found in the woods. She also was able to find a porcupine ulna, radius, and atlas in the vertebrate teaching collection for me to sculpt copies of, which were some of the only bones I was missing to my skeleton. She was always more than happy to geek-out with us about animal skeletons and comparative anatomy, or anything David Attenborough related. Leslie was also the faculty advisor for everyone in the Zoology major, and she very happily helped me out of a bind when a curriculum transition prevented me from taking a course required for my program. I will miss her dearly, as I'm sure will many, many of her students (past and present), and faculty colleagues. I just count myself lucky to have had the immensely enjoyable experience of being her student. I hope she knew how loved and appreciated she was, while she was alive. Leslie, you will be sorely missed. -Haley Yorke "Wow she was such a huge part of my undergrad life at Guelph. She was fiercely passionate and amazing. What a loss."
-Jara Mrdja
"Wow. I can't believe it. Leslie was a wonderful teacher and awesome person. I'm glad she was able to pass on her passion for wildlife to so many people. I'll miss her." - Shannon MacDonald "Leslie was such an inspiration to an entire generation of young biologists, and I'm so very glad that I had the chance to learn from her. She will be greatly missed." - Courtney Kimberly "I've been trying to figure out what about Leslie was so unique in a place full of excellent people. I think it's that she instantly made you feel like part of the community. To me, the department immediately felt like home largely because of her. It didn't matter that I was "just an undergrad", she treated everyone like equals, and everyone mattered. Her legacy is of so many students, an entire generation of U of G biologists, feeling inspired, supported, and loved."
-Katherine Drotos