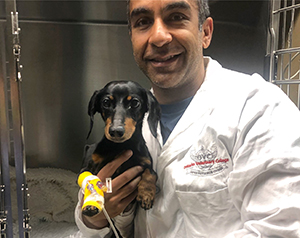 The Crusoe Fund
The Crusoe Fund is a fundraiser hosted by Crusoe the Dachshund in honour of Dr. Ameet Singh, an OVC Pet Trust-funded researcher at the Ontario Veterinary College (OVC), University of Guelph.
OVC Pet Trust
OVC Pet Trust, founded in 1986 at OVC, is Canada's first charitable fund dedicated to improving and advancing companion animal health and well-being. OVC Pet Trust supports innovative discoveries that improve the prevention, diagnosis and treatment of diseases in pets.
Dr. Ameet Singh
Upon graduating from the Doctor of Veterinary Medicine program at the Atlantic Veterinary College, University of Prince Edward Island, Dr. Ameet Singh completed his Internship in Small Animal Medicine and Surgery and his Doctor of Veterinary Science in Minimally Invasive Techniques at OVC. He has been a faculty member in Clinical Studies and a small animal surgeon at the OVC since 2010. Ameet is a Diplomate in the American College of Veterinary Surgeons (ACVS) and in 2017 was named one of 15 ACVS Founding Fellows in Minimally Invasive Surgery (MIS). He has published more than 80 scientific articles, 15 textbook chapters and has lectured on this topic around the world. He has a very active research program that allows for student veterinarians, interns, residents and graduate students to gain experience in MIS.
How You Can Help
Please click on the Donate Now pawprint button to make your gift or telephone: 519-824-4120 x 54695.
When donating on-line, please choose "Dr. A Singh Minimally Invasive Surgery" under gift designation. All money raised would go toward the development of a robust clinical trials program in minimally invasive surgery and towards equipment that can support this initiative. This impact will be far reaching as the development of minimally invasive techniques will allow animals undergoing these procedures to have less pain after surgery, have a faster return to function and a lower complication rate.
Thank you ♥
P.S. To learn more about OVC Pet Trust, visit www.pettrust.ca, follow us on Facebook or e-mail ovcpet@uoguelph.ca.