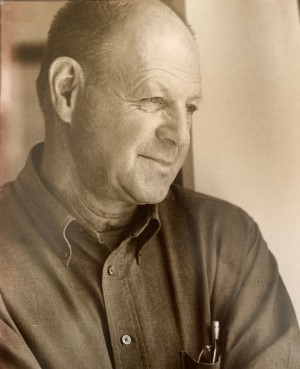 "Opening doors and making connections"
Dr. Larry P. Milligan's distinguished career at the University of Guelph started in 1986, when he was hired as the Dean of Research under president Dr. Burt Matthews. Larry came to Guelph with a reputation as one of Canada's top animal scientists and departmental administrators, having served as Chair of the Department of Animal Science at the University of Alberta.
Larry loved seeing students get involved in research. One of his most memorable quotes reflects that sentiment: "Experience in research is preparation for success in life." Former students and colleagues remember Larry for his intellect and integrity. As a teacher and mentor, his core philosophy was 'guided independence'; he would guide his students with patience and support to discover the answers and solve problems on their own.
As a researcher, Larry was renowned as a world expert in ruminant metabolism and his papers were published by the highest-ranking journals. His publications remain the foundation of many subsequent decades of research and are still being widely cited today. Larry's lasting impact can be measured by his hundreds of published papers, thousands of citations and the large number of students who graduated from his lab and went on to positions of influence in nutritional sciences and agriculture and food, not only in Canada but around the world.
Larry's roots ran deep in rural Canada. He was born in Innisfail, Alberta and would come to call Okotoks his hometown. Larry gravitated to academics at an early age, but didn't shy away from physically demanding jobs. He worked at the local sulphur plant, as a ranch hand and on the oil rigs, and was involved in military training before ultimately pursuing higher education. He achieved his Bachelor of Science and his Masters of Science (Animal Nutrition) from University of Alberta, then went on to complete his PhD (Nutrition) at the University of California, Davis.
Larry arrived in Guelph at a time when huge changes were underway at many research-intensive Canadian universities. Increasing emphasis was being put on the research portfolio, as institutions recognized the excitement, prestige and support that accompanied a vigorous graduate studies program. Administratively, that development included advancing the research lead from a deanship to a vice-presidency…a change that took place at the University of Guelph in 1990, when Larry became the university's first vice-president of research.
Larry's mantra was "open doors and make connections." One of his first accomplishments – one which reverberates today -- was to connect with leaders from the Ontario Ministry of Agriculture, Food and Rural Affairs (OMAFRA) and from the agri-food industry to create an accountable and productive infrastructure for agri-food research in this province.
From their efforts came the creation of the University of Guelph Research Park and a list of stellar tenants, including government agencies, multi-national companies and start-ups stemming from University of Guelph research.
By far, Larry's greatest accomplishment was leading the development of the OMAFRA – U of G partnership for research, now the Ontario Agri-food Innovation Alliance. Through this initiative, the ministry and the university work together to advance research and innovation that contributes to the success of the province's agri-food sector and promotes rural economic development. Research, laboratory, and veterinary capacity programs operated through what is now the Alliance ensures Ontarians have access to healthy, safe food, and that farmers and businesses have the information they need to be productive, sustainable and resilient.
All this means you see Larry's legacy every time you shop for food and see Ontario-grown products on the shelves. Farmers are huge supporters of research, and it was Larry and the team he worked with that modernized and formalized the province's agri-food research system, so farmers would have access to new varieties and new approaches to food production.
Communicating research and supporting efforts to tell Canadians about research as one of Larry's passions. As a research administrator, and as a researcher himself, Larry was excited by research, about how research contributed to what the University of Guelph has become renown for – that is, helping -- helping people, helping animals, helping the environment. He believed that other researchers' enthusiasm for their own work would have broad appeal to the public -- and that media would pick up on it -- if they only knew about it. So in 1987 he created what would be the first full-time research communications position at a Canadian university. Today, it's rare to find a research-intensive university without have one.
His support was also key to involving students in communicating about research. That support led to development of a unique experiential learning program called Students Promoting Awareness of Research Knowledge or SPARK. The program just celebrated its 30th anniversary, having become a solid part of Guelph's research communications. Larry believed this was a superb way to get the importance of agri-food research out into the industry, as students graduated and many of them took positions across the agri-food system – some in research roles, others in journalism, communications and marketing.
Larry's honours as a scientist and administrator reflect the respect his colleagues felt for him. Among these honours are:
National Merit Award - Ottawa Life Sciences Council
Borden Award - Canadian Society for Nutritional Sciences
Honourary Research Associate - Berkshire, United Kingdom
Advisory Consultant Agricultural and Development Institute - Malaysia
Fellowship - Royal Society of Canada
Member of the Prime Minister's National Advisory Board on Science and Technology
Professor Emeritus - University of Guelph

To honour Larry's legacy, the Office of the Vice-President (Research) has established the Larry Patrick Milligan Memorial Scholarship to support a University of Guelph graduate student's research in agri-food. The scholarship winner will be a student whose research demonstrates the most benefit to a real-world application. For more information on making a donation, contact annualfund@uoguelph.ca or call 519-824-4120 Ext 56934.
By Owen Roberts, with contributions from Jeff Schieck, Brian McBride and the Milligan family