Gifts to The Anita Stewart Tribute Fund will support initiatives at the University of Guelph that pay tribute to the life and legacy of Anita Stewart.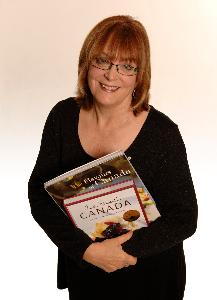 U of G Mourns Death of Food Laureate Anita Stewart
It is with profound sorrow that the University of Guelph marks the passing of Anita Stewart, U of G's food laureate and founder of Cuisine Canada and Food Day Canada.
A long-time culinary journalist, food historian, U of G food champion, and self-described food activist and disruptor, Anita Stewart died Oct. 29. Niagara Falls is to be lit up in red and white tonight in her honour.
It was at Canada's food university that Anita found a ready outlet for her passion. She was appointed in 2012 as U of G's inaugural food laureate – believed to be a world first at any university. The position was created by the University in partnership with the Lang School of Business and Economics and the Ontario Agricultural College.
In this role, Anita served as the University's honorary food ambassador, providing advocacy and leadership for academic and administrative departments across campus, and strengthening U of G's national and international reputation for food and culinary research, teaching and technology. She was a supportive colleague of the University's Arrell Food Institute since before its official founding.
"Anita Stewart was, as everyone who knew her will attest, an exceptional and one-of-a-kind person," said President Charlotte Yates.
"She was known as a great supporter of all things Canadian, a true innovator and a trailblazer, and also as a cherished and loved personality. She will be mourned and missed by many."
Anita helped U of G celebrate its own food history by creating a University-made food inventory and preparing a special menu for the 125th anniversary of the Ontario Agricultural College in 1999.
She launched, with the University, the annual Good Food Innovation Awards in 2010 to recognize restaurants across Canada for culinary creativity with local ingredients. U of G awarded her an honorary degree in 2011. The University has established an Anita Stewart Tribute Fund to continue to advance her lifetime contributions to the culinary life of Canada and her work as U of G's food ambassador. As well, this year U of G began construction of the Anita Stewart Alumni Food Laboratory, a unique, state-of-the-art facility supported by a generous gift from Michel Eric Fournelle, a U of G graduate and philanthropist.
As part of the Gordon S. Lang School of Business and Economics, the facility will teach future generations of U of G nutrition and hospitality students everything from food preparation and safety to cooking on camera.
Anita was the first Canadian to earn an MA in gastronomy. Besides writing articles for all of the country's major news and food publications, she wrote and co-authored numerous award-winning books on Canadian foods and wines.
Appointed to the Order of Canada in 2012, she consulted on Ontario's culinary tourism strategy and served as an adviser to Agriculture and Agri-Food Canada, the Ontario Ministry of Agriculture, Food and Rural Affairs, the Canadian Tourism Commission and the Ontario Ministry of Tourism.
Anita was a member of the Advisory Council of the World Gastronomy Institute; lifetime member of the Culinary Historians of Canada; honorary lifetime member of the Canadian Culinary Federation of Chefs and Cooks; and culinary awards adviser to the Governor General's Awards in Celebration of the Nation's Table.
For more information about Anita's many accomplishments, please click on this link: https://fooddaycanada.ca/about/anita-stewart-biography/
To honour its first Food Laureate, the University of Guelph has established an Anita Stewart Tribute Fund to continue to advance her lifetime contributions to the culinary life of Canada, and her work as our food ambassador, promoting food research and teaching.
In Anita's words, "she set our national and international tables with both talent and ingredients". She was a real culinary hero!