Professor [Gordon] Douglas Killam
August 26, 1930 – November 17, 2020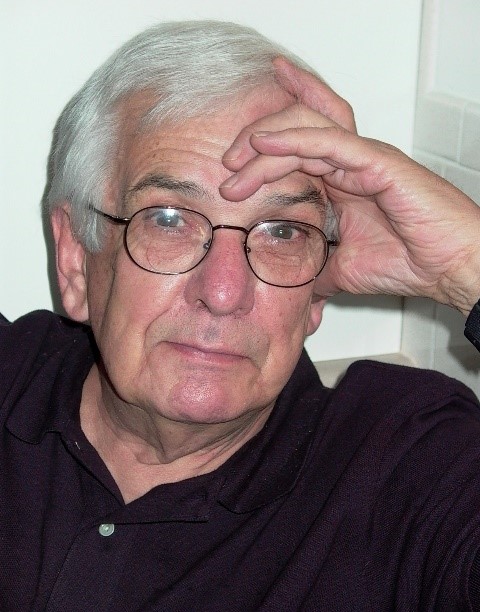 Gordon Douglas "Doug" Killam died peacefully at age 90, on November 17, 2020, with family by his side, after a courageous struggle of nearly 20 years with Parkinson's Disease. Doug was predeceased by his parents, Harry Killam and Margaret (née Currie) Killam of New Westminster, B. C., and in 1996 by his beloved wife, Shelagh (née Anderson) Killam. He leaves behind his two children, Sach and Sarah, his daughter-in-law Libby, his granddaughters Olivia and Gracey, and his cherished colleague and companion of many years, Mary Henley Rubio.
Born in 1930, Doug was a precocious and spirited only child who, like Margaret Atwood, proudly claimed descent from the gifted Killam clan of Nova Scotia. He especially enjoyed sharing a story from his time as a University of Guelph administrator when Margaret Atwood affectionately poked fun at his expense, pointing to Doug as he sat in profile, joking she and Doug shared the distinctive 'Killam nose.' Doug was a sociable, outgoing man who formed friendships easily, but he loved sparring with colleagues over his extensive knowledge of baseball trivia. He also was renowned for his unique storytelling ability, and his deeply ironic sense of humour always inflected his stories. Doug graduated with Honours from the University of British Columbia in 1952, and, like Robin ("Dan") Mathews, a classmate from UBC who became a close life-long friend, Doug began a career as a television producer for the CBC in Vancouver, where he worked for four years.
Doug wanted more adventure and academic challenge than the CBC offered, so, like his friend Dan, he too moved into academic life. Doug went to the UK where, in 1964, he took a Ph.D. at University College, London, writing on the church people, traders, and colonial administrators who had "discovered," claimed, and boldly partitioned the African continent into colonial segments. With an inquiring mind and a prodigious memory, Doug was always restless, and most of all, he loved to travel; during the 1960s and 1970s, Doug taught in Sierra Leone (Fourah Bay College), Nigeria (University of Ibadan and at the University of Lagos), and Tanzania (University of Dar es Salaam). These teaching appointments alternated with others in Canada – at the University of British Columbia, at York University in Toronto, at the University of Alberta, at Acadia University in Nova Scotia, and finally at the University of Guelph. He was the Founding Master of Bethune College at York University, the Dean of Men at Acadia, and at Guelph, he built the Department of English into a noted center for Post-Colonial Studies.
He undertook many special activities at Guelph, establishing the University as the 1980-83 site of the Secretariat of the Association of Commonwealth Literature and Language Studies (ACLAS). He chaired the Canadian Association of African Studies, the Canadian Association of Chairs of English, and was active in the Executive of the International Federation of Modern Language and Literature (FILLM).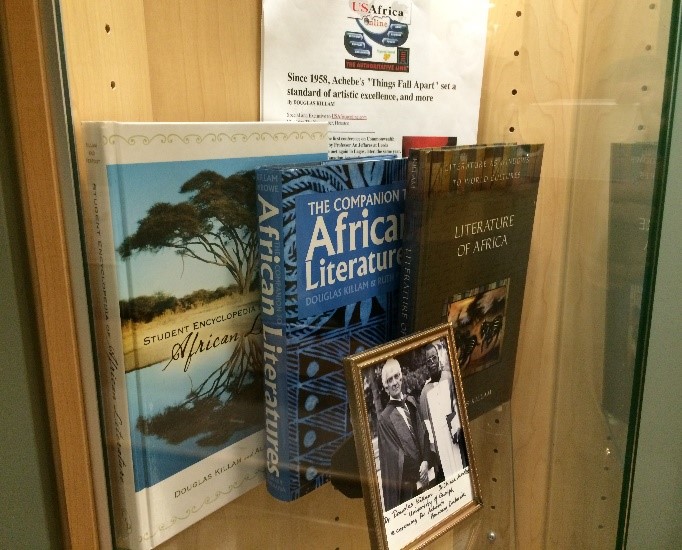 Doug's many books included Africa in English Fiction, The Novels of Chinua Achebe, African Writers on African Writing, Critical Perspectives on Ngugi, and The Writing of East and Central Africa, and Literature of Africa in the Greenwood Press series "Literature as Windows to World Cultures." He co-edited The Companion to African Literatures for Oxford University. He published scores of articles on specific writers, on Canadian literature, and on colonialism in other developing countries. He co-edited several journals, including the Canadian Journal of African Studies, and World Literature Written in English; he served on the Editorial Board of College Literature, and prepared many entries for other encyclopedias, including some forty biographical entries for the William Rose Benet Reader's Encyclopedia. He spoke at conferences in Britain, France, Germany, Denmark, Malta, Africa, India, Australia, Fiji, Malaysia, the Philippines, the USA and the Caribbean. He brought many international authors and academics to the University of Guelph and was, himself, a Visiting Canadian Fellow at both Macquarie University in Australia in 1984 and at the University of Queensland in 1989. With colleague Elizabeth Cockburn, he ran the CIDA supported Guelph-Yaounde project in Tanzania between 1980 and 1987, collecting oral literature to use in African schools so as to preserve it from cultural loss. Doug understood some Igbo and Swahili, and also spoke a little of each language.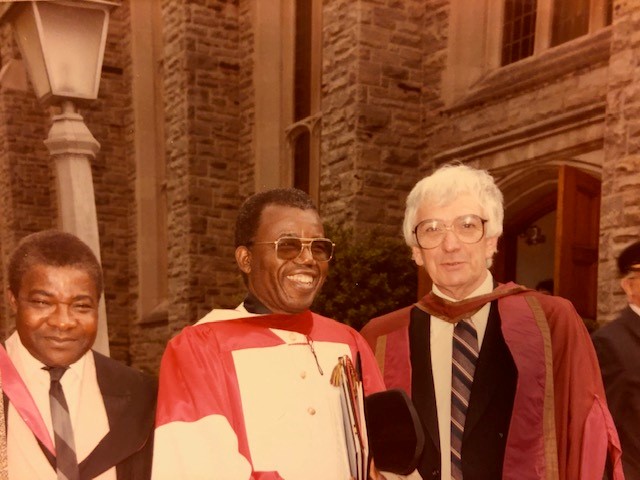 Doug first met the now famous Nigerian writer, Chinua Achebe, in 1964 at Leeds University in the UK. Achebe had written his first book, Things Fall Apart, in 1958 – a book now translated into some 50 languages, taught around the world, and acknowledged as one of the greatest novels ever written. Doug recognized Achebe's extraordinary literary gifts and wrote the first ground-breaking critical study of Achebe's books, The Novels of Chinua Achebe, in 1969. In Achebe's final book, There Was A Country: A Personal History of Biafra, Achebe acknowledged Doug's influence on his career, writing: "Things Fall Apart got some of its earliest endorsements and positive reviews from Canada, where critics such as G. D. Killam and the novelist Jean Margaret Laurence embraced it." Doug was a friend of Margaret Laurence, who had also lived in and written about Africa in her early short stories, and Doug wrote introductions to her A Jest of God and This Side Jordan for the New Canadian Library Series by McClelland and Stewart.
Doug brought many Canadian and international writers to Guelph in his years as Chair of the Department of English between 1977 and 1988. In 1984, Achebe was made Doctor of Letters (honoris causa) at Guelph, giving an acceptance speech on the environment which warned that if the world did not stop pollution, we would be left with a "dead world." Achebe spent three months as a "Writer in Residence" at Guelph, making trips to many other Ontario universities to speak. A soft-spoken, modest man, Achebe was a favorite with students, and his office door was always open to them. Achebe sent his oldest daughter, Chinelo, to do a Master's at Guelph under Doug's direction. Doug and Chinua Achebe, born in the same year -- and both exotic cooks -- remained life-long friends.
Doug and his wife Shelagh gave many parties over the years, and at one for Achebe, one Nigerian medical student drove from Newfoundland to Guelph – 3,000 km each way -- to attend this party to meet and shake hands with Achebe. While in Guelph, Achebe was interviewed by Peter Gzowski on his famous CBC program, "Morningside," where they talked about the Biafra-Nigerian War. Later Gzowski invited Doug for a series of five talks on African literature.
After Doug's retirement from the University of Guelph in 1995, he had extensive plans for further travel and writing, but he was ambushed by Parkinson's Disease, bringing his long career to an early end. Yet, he was philosophical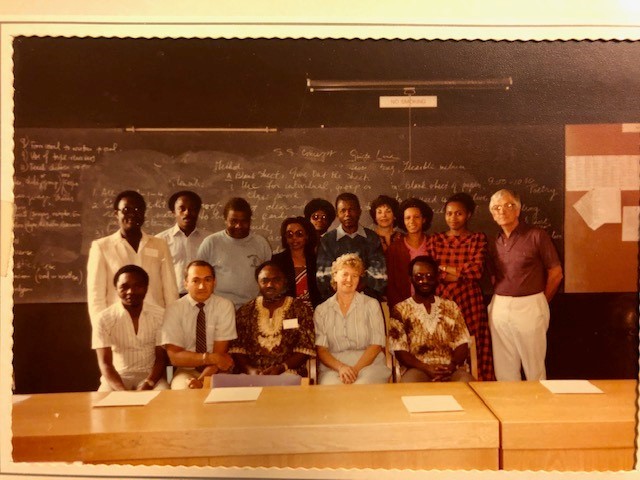 and knew he had enjoyed a much fuller life than most people, and he relished good friends on every continent. As he declined, soon confined to a wheelchair, and then finally losing his ability to speak, he summoned his irony to make a last typical wry observation on his 90th birthday: "Dying is hard work." His academic achievements, of course, survive him, as do the fond memories of all the friends and students who knew this man of prodigious energy, ability, and warmth.
In memory of Doug, we ask you to support the Doug Killam Tribute Fund to recognize his distinguished scholarship, prodigious travel, and steadfast belief in the importance of inviting Canadian and International writers to campus to enrich students' lives.
For assistance in making your donation, please contact Mary Walsh through email mary.walsh@uoguelph.ca or by phone: 519-827-7856