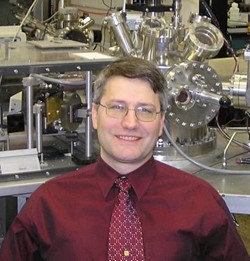 Paul Rowntree Memorial Scholarship
Together, the Department of Chemistry and the Rowntree and McKnight families are raising funds to establish an endowed scholarship named in memory of Paul Andrew Rowntree. This scholarship will be awarded annually to a third-year chemistry student. Paul passed away on July 27, 2020 following a brief cancer illness. He leaves behind his dear wife Anne, and their children Christopher and Maria.
Paul grew up in London, Ontario and attended the University of Waterloo where he completed his B.Sc. and M.Sc. degrees in Chemistry. He began a Ph.D. at Waterloo and moved with Prof. Giacinto Scoles to Princeton University where he completed his doctoral studies. He then moved to l'Université de Sherbrooke in Québec where he worked with Léon Sanche as a post-doctoral researcher in the Département de Médecine Nucléaire et Radiobiologie. In 1992, he became a faculty member in the Département de Chimie at Sherbrooke where he developed his research program and enjoyed teaching for fourteen years. Paul moved to the University of Guelph in 2006 and since 2013, he has served in the role of department chair. The department was fortunate to have had him in this leadership role, skillfully navigating challenges and creating opportunities, including the recent hiring of new faculty members and the oversight of a complex, two-stage building renovation. Paul was always there to help, support, and to lead the department to a successful outcome.
Paul had an immeasurable impact on many students during his time at the University of Guelph. He was a creative and innovative teacher and his interactions with students was one of his great joys. His technical skills with electronics and machines gave his students an unparalleled, educational experience. In recent years, Paul requested to teach the large, first year classes. He found the experience stimulating and illuminating and it inspired him to adjust his approach to teaching.
Paul's research began with the investigation of molecular spectroscopy in noble gas clusters. He developed expertise in molecular beam studies and used He atom beam diffraction to study the atomic structure of surfaces. His work in the field of surface science expanded into electron stimulated desorption and dissociative electron attachment processes that were induced by low energy electron beams irradiating molecular overlayers on surfaces. He became an internationally recognized expert on electrons interacting with self-assembled monolayers. His research group worked to understand the molecular dynamics of these systems and their interactions with increasingly complex systems. Paul also pursued investigations with industrial partners, developing materials as catalysts for use in solid oxide fuel cells. His work also helped illuminate the molecular processes at play during the refining of nickel ores. He was a talented experimentalist who built many of his own research instruments.
Paul was a kind and intelligent man who was genuinely concerned for the welfare of others and interested in the stories and experiences of the people he met. He had a quick wit and he was always ready to share a joke or a pun. He was inquisitive and passionate in his quest for knowledge and an understanding of how things worked. Paul's email signature included a pictogram of a sailboat with the phrase urging its recipient to "leave a clean wake." That certainly characterizes his life. He has left a clean wake in his passing; no debris, no detritus, nothing to detract. Just the joy that we all have had in being able to know him. In his final days, Paul spoke of his gratitude for the life that he had been able to enjoy. He asked that we all remember that life can change in a moment, so we need to appreciate each day. Such encouragement and optimism are typical of his life and legacy.
Please support this lasting legacy for Paul by making a donation to the Paul Rowntree Memorial Scholarship.
If you would like to contribute to this scholarship, please click the donate button above or contact Melissa Woo at melwoo@uoguelph.ca or 226-820-3401