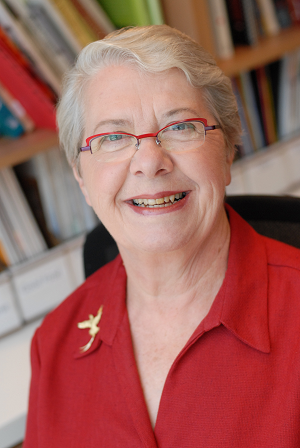 MURRAY, Elizabeth Rose (Varty)
Rose passed peacefully on July 24 in Cambridge Memorial Hospital at the age of 82. She is survived by Kent, husband of 58 years; son Allen (Cherrie Winfield) of Cambridge; and daughter Anne Loxton (Robert) of Orillia. She was a loving grandmother to Claire and Mitchell and sister to John Varty. She is predeceased by parents Josephine and George Varty, and siblings Muriel, Allen, Helen and Arthur.
Rose had a lovely childhood on a self-sufficient farm south of Duntroon, ON. It was beside her mother, with whom she worked in the garden and cooked for the workers on the farm, where she first gained an appreciation for fresh, delicious food and how it can bring people together.
Rose obtained a degree in English from Trinity College at the University of Toronto. She then taught English at Collingwood Collegiate Institute, which she had also attended, and where, through a fellow teacher, she met her future husband, Kent. Rose and Kent married shortly after meeting and when children Allen and Anne followed, Rose stayed home to raise them. She was a loving and supportive mother and shared her love of life with her children.
Through the years, food continued to be of great interest to Rose and under the influence and guidance of close friends who were already food professionals, she started to write and teach local cooking classes. This led to formal studies at cooking schools around the world, from Paris to Hong Kong, Thailand and Costa Rica, as well as closer to home.
Rose quickly became respected for her sense of agricultural traditions in Canada. She was sought after as a freelance writer by several publications, including Canadian Living, Elm Street, Homemaker's, The Globe and Mail and the Toronto Star and she went on to author over 11 cookbooks and to contribute to more than 40 others. She appeared regularly on CBC Radio Noon, CTV Toronto and was the resident chef at CTV Kitchener for several decades. She received numerous awards across Canada, was inducted into the Taste Canada Awards Hall of Fame in recognition of her contribution to Canadian culture and was made an Honorary Lifetime Member of the Culinary Historians of Canada.
While her accomplishments were impressive, it was her love of entertaining friends and family and sharing good food that carried through all aspects of her life. She had a genuine interest in the people she met and she welcomed everyone into her home to eat and share stories and lots of laughs. Her sense of humour, kind support and wise advice will be missed by her family and many close friends.
In lieu of flowers, please consider a contribution to Rose's bursary at the University of Guelph to help support future food professionals.
Please use the 'Donate' button above to contribute to the Rose Murray Graduate Bursary in Nutrition.
If you require assistance to make your donation, please contact Cristina Coates at ccoate02@uoguelph.ca or 226-971-0796