Crowd Funding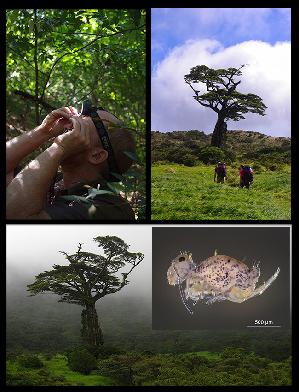 Understanding the cryptic animals of endangered cloud forests

Goal:

$5,000.00

Achieved:

$560.00
Understanding the cryptic animals of endangered cloud forests
Donations will be received by selecting, "Integrative Biology Learning Fund"
Most of life weighs less than a gram, is less than a centimetre long and, in all likelihood, does not have a name. Species without names are vastly more difficult to protect in a changing environment - if only because we (scientists and the public) are both unaware of their existence and unable to share what we know and can find out about them. They are not the "known knowns" of the species you see every day (your dog, your cat, your horse). They are the "unknown unknowns" - cryptic species we don't even know we don't know yet!
In our lab at the University of Guelph we study hyperdiverse insect species in the neotropics and attempt to make more of the "unknown unknown" known! Using intense and long-term sampling and 21st century biodiversity tools (like DNA barcoding) we investigate the effects of the changing climate on hyperdiverse insect communities along a Neotropical elevational gradient in a UNESCO World Heritage Preserve in Costa Rica – the Area de Conservacion Guanacaste (ACG - http://www.acguanacaste.ac.cr, http://www.gdfcf.org).
You can watch a short YouTube video describing our work here: http://youtu.be/X247VeM3muM
Species – known and unknown – in these high-elevation environments are being rapidly and dramatically impacted by the increasingly hot and dry weather that a changing climate brings to tropical cloud forests. These changes are having catastrophic effects on this highly endemic and specialised biodiversity.
We work to study these changes using long-term climatological monitoring across these elevation gradients, standardised collection techniques and high quality 'next-generation' biodiversity metrics that include DNA barcodes (a standardised short piece of DNA used for species identification), 3-dimensional specimen photographs and high-resolution habitat GigaPans (www.gigapan.org). The DNA libraries we construct allow us to find cryptic species, identify fragments of specimens (from the gut of a predator), and link morphologically divergent sexes. For example, did you know male ants and female ants from the same species often look nothing alike? With DNA barcodes, this reconciliation is much easier!
Why donate to research into the diversity of tiny insects in isolated tropical forests?
Your generosity will ensure two important aspects of this work. First, that we can make accurate species level identifications of these tiny unknown species using DNA barcoding - a University of Guelph specialty! Second, you will help us better share and understand this diversity as all elements of the project are immediately available to the public online! Finally, you will be helping Canadian students become better-informed citizens of a global community – contributing to the world's understanding of the species we share the planet with while they learn about changes in these globally unique forests.
The funds raised here will support the field and laboratory costs associated with the ongoing University of Guelph field work in the endangered ACG cloud forests. For example, on a typical field trip, there are expenses like return economy airfare, accommodation, specialized gear, food etc. that can total more than $2000 and DNA barcoding costs of $10/specimen ($3000 on any particular field trip). We want to ensure that the most keen and enthusiastic students are able to participate in this important work and your gift will help offset some of these costs.
It is important to us that all graduate and undergraduate student projects will produce 3-dimensional photographs of the specimens; high-resolution GigaPan panoramas of the cloud forests, as well as the DNA barcodes from each specimens. All these products will be publically available to ensure that the work you have supported will have as large an impact across the world as possible.
If you are interested in donating - FANTASTIC! First, select the DONATE button on the right-hand side of this page. In the next screen go to the first drop down menus under Available Programs and select College of Biological Science (CBS), and then the Integrative Biology Learning Fund.
Interested in learning more details?
There are many ways to follow the project online!
You can follow the lab on Twitter: https://twitter.com/Alex_Smith_Ants.
You can read about our research on the Smith lab website: http://malexsmith.weebly.com/.
Our project has a YouTube channel: http://bit.ly/1rEpfUf.
We blog from the field, posting extensive photographs, videos and documentation: http://bit.ly/1pwSIUf.
There are hundreds of high-profile, high-resolution GigaPan panorama photographs online, allowing you to visit these forests in extreme detail: http://bit.ly/1vuTmkJ.
Finally, you can visit the ACG website to read about this project and other long-term research programs hosted here (Spanish) http://bit.ly/15I4TVw.
Understanding the cryptic animals of endangered cloud forests
Alex Smith